Airmix Spray Application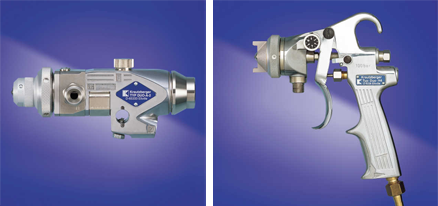 Automatic and hand-held Spray guns

Airmix Spray Application
is the airless spray gun but with pressure air flow to improve the atomization of material.
The atomization results obtained is better than airless spray gun, though not as good as the air spray.
This make the air assisted airless spray gun more widely used in furniture finishing industry.
This equipment can do a faster job compared with air spray gun. The atomization is not as perfect as the air spray gun but is still acceptable in the furniture finishing industry.
The pressure required is between 40 - 80 bar.
Due to the additional air it is possible to create a smooth and adjustable spray jet.
Advantage:
- Less overspray.
- Fine atomization of the material
- Adjustable pressure with controlled lacquer application
- Use of coatings with high viscosity and high pigments is doable.
Disadvantage:
- Use for small batch size is limited
- Rougher atomization compared to the air spray
- Higher equipment invest
- High quantity of the lacquer is needed
These processes are just a brief projection of projects, implemented from companies as seen on our pages, to provide outmost quality, increasing process reliability and cutting the processing time to make the process as uniform as possible.