Wide belt sanding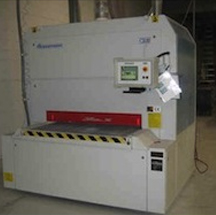 View of belt sander and Rotary brush sander
These kinds of machines are being used for grinding big sized flat areas.
Most often a combination of sanding tools and heads are being composed together, to meet the requirements in finish and in look.
Whether sanding operations on wood, metal or even on plastic, these machines are ideal to work with, because of the individual configuration possibilities of their sanding heads.
The sanding process is always carried out in a combination with an exhaust system to avoid any harm to the operators on one side. On the other side these exhaust systems protect other productions and keeps the environment clean from sanding dust.
Nowadays sanding machines are more and more equipped with frequency controllable drive motors, to allow speed alterations of the sanding tools or heads.
A speed control quite often is necessary, because, if a very rough sanding paper is in progress,
The sanding paper tends to create heat.
If this is not to be considered, heat sensitive substrates, like plastic, wood or during lacquer sanding, there can be a result of a melting or a variation in color.
To achieve a certain, exact thickness on solid wood, sanding is an adequate solution to do the calibration.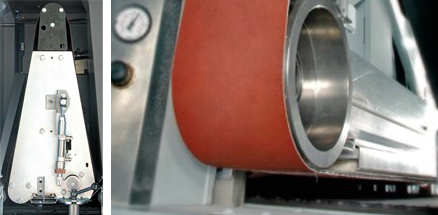 View of sanding head and Detail cross sander
Raw wood, veneered panels, like particle boards, MDF or plywood are processed by sanding operation, before further production steps take place.
Today there is no difference between solid and veneered wood in terms of surface quality.
To meet the quality requirements of a modern production, sanding machines have to be very flexible.
Times with huge production lines are over. Flexibility and short set up times are mandatory.
Even small sized production facilities are using modern machines with high flexibility to meet the industry requirements.
These processes are just a brief projection of projects, implemented from companies as seen on our pages, to provide outmost quality, increasing process reliability and cutting the processing time to make the process as uniform as possible.