Dedusting and Cleaning
Quite often the optical impression of a high quality product decides whether to buy or not to buy.
The reason for this is a perfect finish, a perfect surface, a perfect look.
To achieve such a finish, a special pre-treatment is requested before the actual job can be started, the spraying process.
Therefore, an ultra fine best possible precleaning of the work pieces is essential.
Surface irritation, caused by dust particles, being in the lacquer film, can have a production loss of more than 10 %.
An electric static load of the work pieces or minor residuals of micro dust particles at lower located areas of the work piece or even random load from the environment are causing surfaces defects.
Depending on the surface quality requirements, the appropriate surface cleaning solution has to be selected.
The easiest solution of a Dedusting system is a jet air blower or a brush cleaning unit. Both systems can be extended and combined with each other. Additional cleaning is necessary when there is a dust particle contamination through production dust load and during storage of parts.
Are the particles loose, they can be removed by described solutions.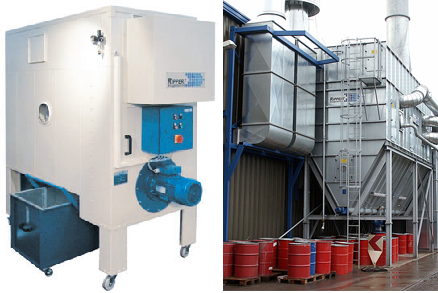 Small volume filter unit and Lacquer dust collector

These processes are just a brief projection of projects, implemented from companies as seen on our pages, to provide outmost quality, increasing process reliability and cutting the processing time to make the process as uniform as possible.

Please proceed to the webpage of these companies.

Don't hesitate to get in touch with Better Surfaces should you require further information and consulting.