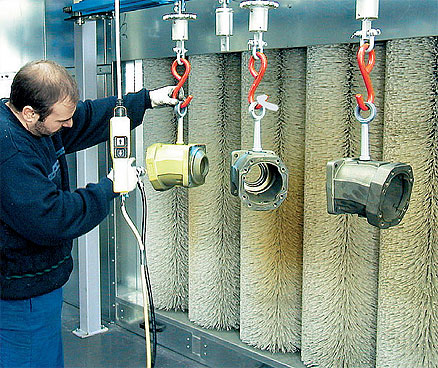 Airless application with self-cleaning brush spray booth

Airless Spray Application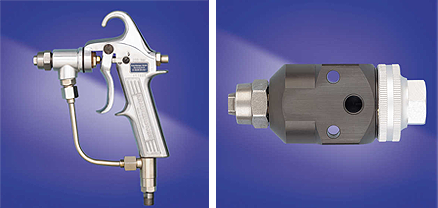 Airless guns for automated and hand-held application

The material is pressed with a very high pressure and without the use of air through the gun and then atomization occurs.
The pressure required is very high, up to 1000 psi (80 - 120 bar).
Therefore the
airless spray
gun needs high pressure pump and material hose that can withstand the high pressure. This equipment can generate the high speed and the efficiency of transfer material is higher than the air spray.
Advantage:
- Less overspray ratio
- accurate spray application with faultless atomization
- High material efficiency
- Easy handling with the hand gun and automatic gun
Disadvantage
- The weakness of this equipment is the spray result is not too good, because the atomization of the material is not as perfect as the atomization with air spray.
- Higher invest of equipment
- Abrasive wear of the nozzle
These processes are just a brief projection of projects, implemented from companies as seen on our pages, to provide outmost quality, increasing process reliability and cutting the processing time to make the process as uniform as possible.