Dedusting
Is the contamination more adhering, may be caused by other production, an intensive cleaning care has to be carried out.
Depending on the design of the work piece and the character of the surface irritation, appropriate cleaning liquids come into use.
Mostly an additional neutralization is required with further drying activities.
Strong adhering surface contamination can be removed alternatively by the CO² cleaning solution.
The carbon dioxide is been blown in solid state with high velocity onto the work piece surface.

Filter unit for small volumes and Paint particle filter unit
The solid character of the cold "CO² snow" causes an embrittlement of the surface impurity.
Because of the high kinetic energy of the "snow" and the just described surface reaction, the contamination is blown away entirely.
The carbon dioxide is finally converted into a gas form and evaporates into the atmosphere.

If the described cleaning processes are insufficient and unable to do a proper cleaning, further additional cleaning steps like plasma and flaming treatment is an option to achieve Better Surfaces.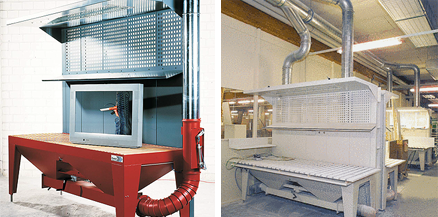 Sanding tables with exhaust system

Starting just with a simple dust blowing unit to remove the surface contamination, a brush cleaning device or a combination of both, can sufficiently improve the finish and look.
A deionisation unit can be added easily to improve the cleaning performance.

Brush cleaning unit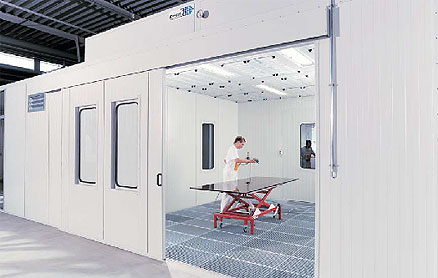 Clean room

These processes are just a brief projection of projects, implemented from companies as seen on our pages, to provide outmost quality, increasing process reliability and cutting the processing time to make the process as uniform as possible.