UV Curing
Even though that there are huge activities around, to reduce the amount of solvent based paints, with its energy consuming drying systems, it is hard to eliminate these systems completely, because of the flexibility of these systems.
Certain solvent based paints are already replaced by water based systems. But even these ones do use the same drying method.
Alternatively
UV curing
systems are on the market, with much shorter drying times. But, only with limitation in reference to colors and radiation.
Work pieces, complicated in size and design, are hard to cure.
Paints are developed with photo initiators, reacting on certain radiation wave lengths and start curing immediately.
This means, a work piece, painted with this formulation and following radiation, are being cured immediately with a very hard surface and surface resilience.
So it is a very good solution to paint without long term drying process as described before.
UV curable paints are subdivided into following categories:
100 % UV
Water based UV systems
Solvent based UV systems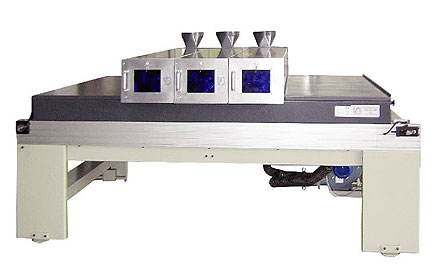 UV dryer for roller coating process
Disadvantage is, the paint will stay wet, if no radiation will hit the paint.
Complicated parts in design, with unreachable satisfactory radiation, are waste to paint. These areas stay wet.
It is possible to add some hardener to the paints, to achieve better results. But there are always limitations in quality and requirement.
UV formulated paints are very good products for mass production with no complicated design.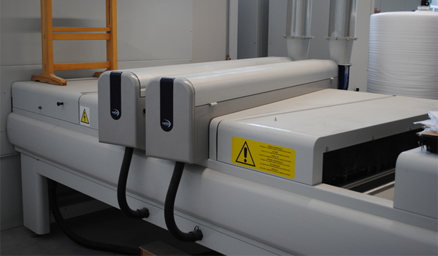 UV dryer, 3D curing
For example UV systems can be used to replace a solvent - or water based sealer with long term drying process.
Short production lines are the outcome, when 100 %UV based paints can be used.
Colors are limited in combination with UV.
Paints for exterior use are limited also.
Solvent - and water based UV materials are curable after flash off and drying process.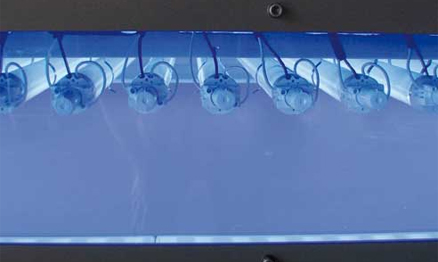 Detail view, TL lamps
Clear UV lacquers require Mercury designed UV lamps, whereas pigmented paints require Gallium designed lamps for curing the material. In many cases it can be a mix of both.
Quite often special doped UV lamps are in use to achieve a certain result.
Lifetime of regular UV lamps under normal circumstances is 2000 production hours.
New developments are on the rise:
LED UV curing technology
These new process can revolutionize and modernize this curing method tremendously.
These processes are just a brief projection of projects, implemented from companies as seen on our pages, to provide outmost quality, increasing process reliability and cutting the processing time to make the process as uniform as possible.